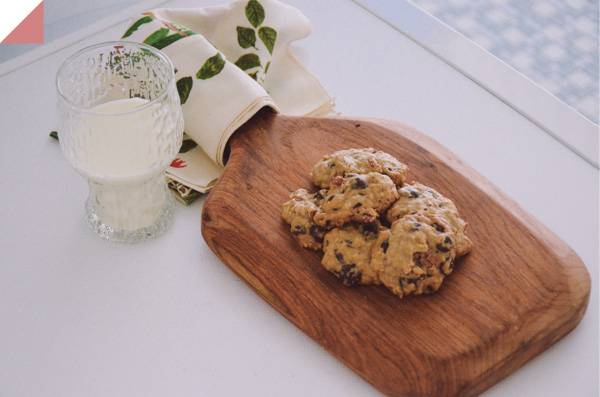 On tuesday morning, we had a big plan to make some delicious treats for the neighbors. After going through a list of options ranging from Roast Chicken, Cheese sticks, Chinese Dumplings to a cake. I decided on cookies because it is easy enough to make and a crowd pleaser. Shortly after, an image of a creepy guy offerings girls sweets, came into my mind. I thought to myself, "there is no turning back now".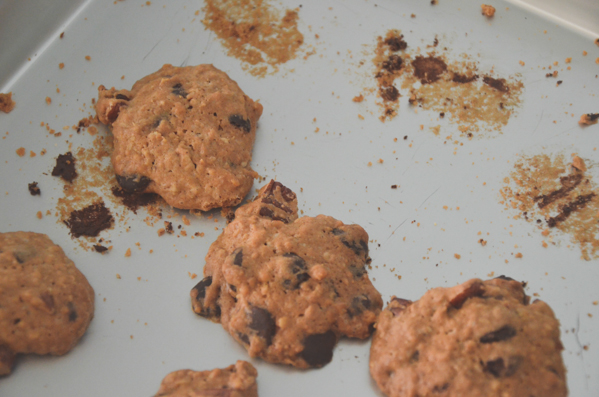 The cookies turns out to be way better than imagined. Although the first batch was a little hard due to the lack of love (aka over-baking). I surprised myself with overall results. The cookies ended up never leaving the kitchen. Sorry, Neighbors!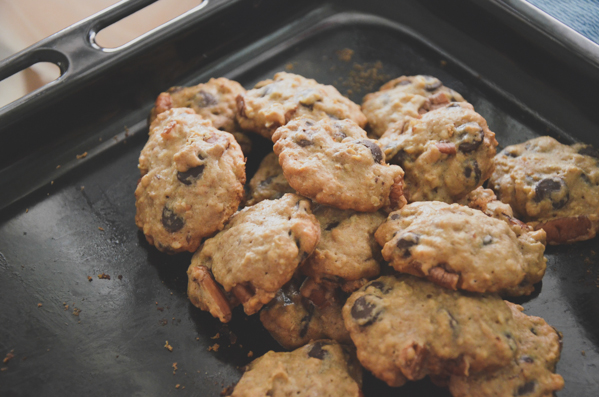 Oatmeal, Chocolate Chip and Pecan Cookies 
Adapted from Katy Sparks and Andrea Strong
Makes about 3 dozen cookies
110g tablespoons unsalted butter, at room temperature
3/4 cup sugar
1 cup light brown sugar, firmly packed
1 teaspoon salt
1 teaspoon vanilla extract
2 large eggs
1 1/2 cups flour
1 teaspoon baking soda
1/2 teaspoon ground cinnamon
1 cup quick-cooking oats
2 cups chopped pecans
340g ounces semisweet chocolate chips
Preheat oven to 350°F. Line a large cookie sheet with parchment or coat with butter. Using an electric mixer, beat the butter in a bowl until light and fluffy. Add both sugars, salt, and vanilla, and beat until well mixed, about three minutes. Stir in eggs, one at a time. Sift together the flour, baking soda and cinnamon in a separate bowl. Add half of the flour mixture to the butter with the mixer on low speed. Once the flour has been incorporated, add the second half. Stir in the oats, pecans, and chocolate chips. Drop the dough, by the tablespoon, onto the cookie sheet and bake for 10 to 12 minutes or until golden. Remove from the oven and cool the cookies on a rack. Store at room temperature in a cookie jar or other airtight container.