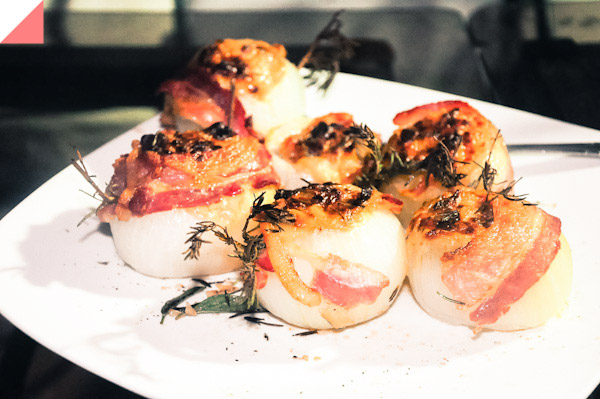 The recipe is taken from Jamie with a twist by putting in some Cashew nuts – it taste soooo gooood. I think Portobello mushroom would also be amazing too. Let me know if anyone of you tried this recipe with Mushroom.
I am going to Columbia on the 19th April. Connect with you guys soon!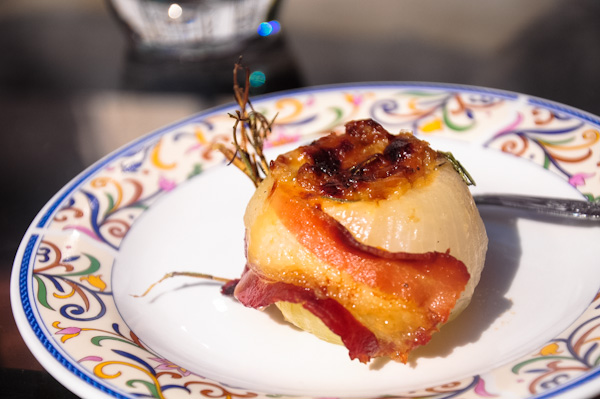 Click here for the recipe!
Ingredients
6 Onions
8  slices of Bacons
2 cloves of garlic
Rosemary
100g Cashew Nuts
10 tablespoon of Heavy Cream
1 cup of grated Parmesan Cheese
Olive Oil
Salt and freshly ground black pepper
Instructions
Boil the Onions for 15 minutes until slightly tender
Remove from pot and allow it to cool
Remove the top 1 inch of each Onion and reserve.
Trim the stalk end of the Onion so that they sit flat on a roasting tray
Cut a hole into the Onion using a pairing knife (The bigger the hole, the tastier the onion)
Preheat oven to 200C
Cut the Bacon into small pieces and panfry it till crispy
Dice the reserved onions, Garlic, Cashew nuts and a little Rosemary
Fry it with together Bacons till Onions become soft
Add the cream and Parmesan Cheese season well with salt and pepper
Wrap a rasher of bacon around each onion and secure with the sharpened rosemary twig or half a cocktail stick.
Spoon the mixture onto the onion
Bake for 25 minutes and you are set!
 Bon Provecho!