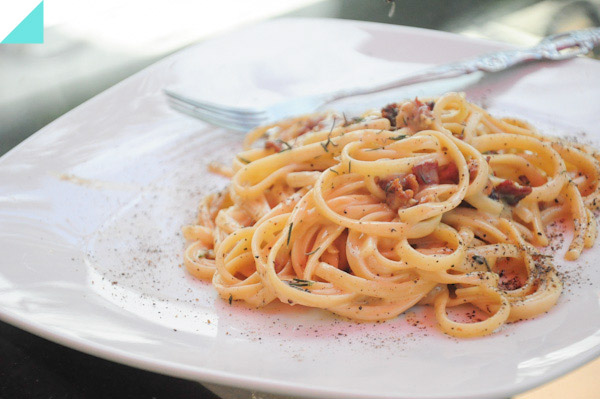 Everyone should definitely have this recipe down in their arsenal. Its creamy, Chessy and it's Carbonara. I am happy to say that after the second, I can make a pretty good damn Carbonara. Here the recipes after some trail and error!
Here the recipe!
Serve 4
Ingredients
450g Linguine
4 strips of bacon
2 eggs
1 Handful of grated Parmesan cheese
150g of double cream
Salt and freshly ground black pepper
Dried Thyme
Instructions
Cook the pasta in salted boiling water as per the packet instructions
Sliced the bacon and fry it in a pan till golden brown
Whisk the egg in a bowl with the cheese, cream, salt and pepper (good hit of pepper)
When the pasta is cooked, stir into the bacon
Add the sauce into the pasta and let the heat from the pasta cooked the raw egg
Add the pasta water to thin the sauce
Garnish with thyme and pepper
Tips
What's important is that you add the cream while the pasta is still hot. This way, the residual heat of the pasta will cook the eggs, but not so that they resemble scrambled eggs.
Make sure to give it a good hit of pepper (Must)
I add a little of thyme as I find it a little too heavy.
Jamie Oliver add mint leaves and peas to his version.