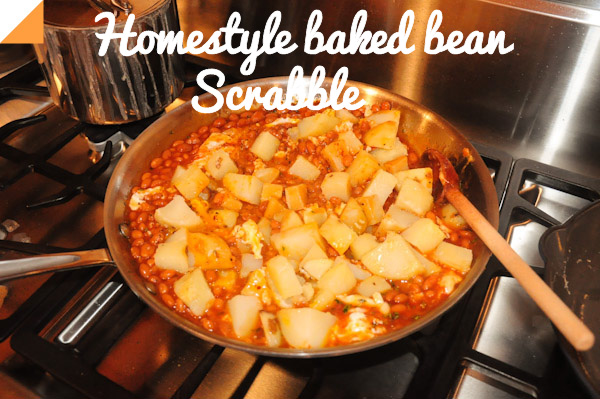 Hello from Atlanta!! It's so cold outside *8°C. Luckily, Robyn's house have good insulation and a fireplace. Sometimes, that's all you need to be happy 🙂
This is a recipe that has been founded during my days of travel in Australia back in 2009. I remember going to Cole's to get the cheapest steak. I will pan fried the meat, fried an sunny side up and pour the baked beans in. That become the sauce. A cheap and tasty dish!
Click here for the recipe. 
Ingredients
Potatoes
Baked Beans (1 Can per 2 pax)
Eggs (1 Egg per pax)
Rosemary
Dried Chili
Pepper
Instructions
Peel and chop the potatoes into cube size
Fry the potatoes
Fry the eggs (Sunny Side Up), rosemary, dried chili and pepper
Add the baked beans and potatoes
Tips
– Any meaty herb or spices will taste good (Sage, Garlic, Laska leaves, Curry leaves)
– Boil the potatoes for a healthy version (I prefer fried)
– Any bite size meat can be added too (cook separately to ensure tenderness of meat).
Eat up