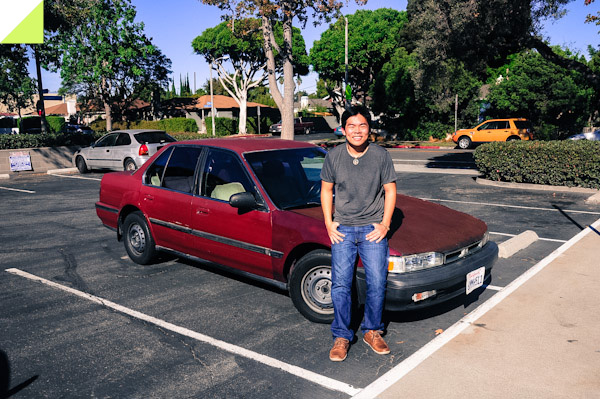 This is me and my car! Traveling in the US has been difficult because of the size of the country. After 1,300 USD and countless sleepless nights, I am proud to say that I bought my first car with my own money. Here are some tips and advice I learned along the way to buying a car in the cheapest way possible.
Buying vs Renting. The cheapest option would be buying the car. You can always sell it fast on craiglist if you are willing to give a $100 discount off the original price. That said, buying a car is definitely much more troublesome. If you are going on a long road trip for more than a month, buying a car is the way to go.
Get an International driver's license. This should be done before the trip. Go on the internet and find the place to get it in your country. In Singapore, this can be done at AAA. An international driver's license costs less than $50 and will last you for one year.
Craiglist is your best friend. You will not believe the number of cars available on craigslist. There are close to 100 cars put up for sale each day, in this case, Los Angeles. Go to the city you are in and start looking for the car of your choice. Cars can sell fast so you need to act quickly – kinda like my dad watching the stock market at his computer.
Buy Japanese cars – Honda, Nissan, Toyota. The japanese cars are known to be cheap and long lasting. Because of the popularity, the replacement parts are also easy to find and cheaper to replace if anything were to break down.
Get the AAA membership. For $80, AAA will help you out of many situations such as towing, a lost key, dead battery requiring a jump, and so on. Even if the cars does not belong to you, as long as you are at the spot they will help you out. They also have a DMV officer at the AAA office to help out with the change of ownership. A worthwhile investment.
Get a Insurance. If you are like me and like to save money understand that you only need to get insurance within 30 days of purchasing the car. I will be selling the vehicle before 30 days so I am not getting insurance. The company that has the best rate so far is  http://www.geico.com.
Think of your bargaining chip. Most sellers raise the selling price because they know that you are going to ask for a discount. So, make sure you ask for a discount. The best way to bargain is the willingness to walk away. You can always name a ridiculous price, wait for their reaction and ask them to make a counter offer.
Smog Test and Registered. It is important to buy a car that has already been registered and that has passed the Smog test (emission test). Know that it is the buyer's responsibility to have the vehicle smog tested before selling it because the DMV requires this.
Bill of Sale. It is the official receipt to show that the car has been sold to you. Do note that the price should be put as low as possible. This would make registration and insurance cheaper.